What Is Digital Marketing?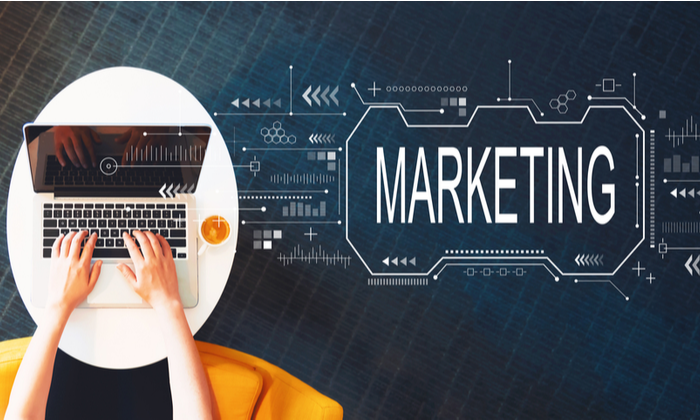 Digital marketing is the act of promoting products and services through digital channels, such as social media, SEO, email, and mobile apps. Any form of marketing that involves electronic devices is considered digital marketing.
It can be done online and offline; in fact, both kinds are important for a well-rounded digital marketing strategy.
Do you want to learn more about digital marketing? This guide will cover everything you need to know to get familiar with digital marketing.
Why Digital Marketing Matters
Remember billboards? I do.
As a young kid in California, my experiences from the back seat of our car mostly alternated between: "Mom, when are we there?" and "Uh, look, McDonald's, can we go?" whenever one of those 10-foot billboards popped up on the side of the road.
Growing up with Indian parents, the answer to both of those would, most times, be the same: "not yet."
Sometimes, big brands would even start a billboard war, like this one between Audi and BMW, which got quite a few laughs:
In 2015, many of my clients spent hundreds of millions of dollars on billboard advertising.
Today, most companies have moved to online marketing.
That's because Google and Facebook generate more revenue than any traditional media company. After all, they control more eyeballs. That's why digital marketing matters; it's where the attention is.
The reason why billboards, like the ones above, will die, is because the future of driving will look like this: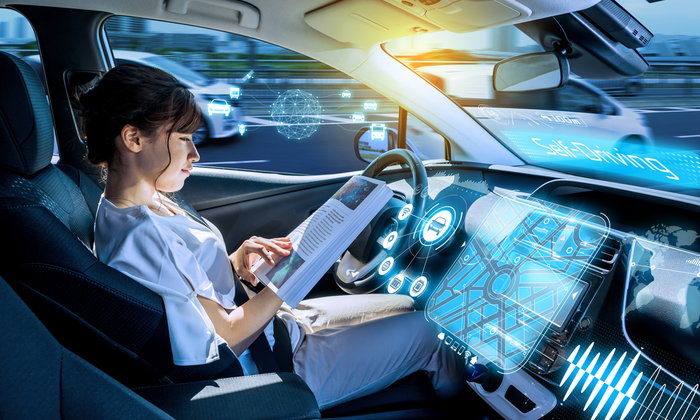 Although driverless cars already exist, drivers still have to pay attention. As the technology improves, not a single passenger will spend their time looking at the road.
Do me a favor; take a peek at the passenger seat the next time you give someone a ride. Just for a second.
Chances are, they'll be looking at their phone.
Who will see those advertisements if no one is looking at the road?
What's more: the share of people spending more time using electronic devices continues to rise, while print advertising continues to decline.
That means you don't have much time to figure out this digital marketing stuff.
Nearly 5 billion people worldwide go online to shop, learn, entertain themselves and even work.
If you want to reach those people, digital marketing is a must.
Maybe you think you have a local store, so you don't need to worry about digital marketing.
You'd be wrong.
According to Google, 88 percent of people who conduct a local search on their smartphone visit a related store in the next week.
You'll miss out on that traffic if you're not online.
Digital marketing also provides access to more data and analytics about your customers, how they navigate the buying cycle, and what they want.
You need to understand and know how to leverage digital marketing for your business to succeed.
The History of Digital Marketing
Digital marketing was popularized in the early 2000s, but digital marketing has been around much longer.
Like, WAY longer. About 100 years longer, to be exact.
Here's a pic of the first digital marketer in history:
His name was Guglielmo Marconi, and he was born in 1874.
In 1896, he was the first human to demonstrate a "public transmission of wireless signals."
He invented the radio.
Shortly after his demonstration in England, Morse signals were transmitted across open water.
While it would take another 10 years for the radio to reach the general public, it sure didn't take the creators long to realize they could use it to sell stuff.
The first live broadcast was from an opera performance at the Met and guess what people did after it?
They bought show tickets!
Digital marketing was born.
Online Digital Marketing Overview
The 2 main pillars of digital marketing are online marketing and offline marketing. That said, since I'll talk about online marketing in a separate guide, I'll only mention the different areas of online marketing here for the sake of completeness.
The 7 big categories of online marketing are:
Intro to Digital Marketing
There are five main categories of digital marketing:
enhanced offline marketing
radio marketing
television marketing
phone marketing
QR codes
Enhanced offline marketing is a form of marketing that is done offline, but enhanced with electronic devices.
For example, if your restaurant uses iPads for your customers to place orders, then the offline experience of eating Thai food is enhanced with this electronic device.
People have been using digital media to enhance their marketing for decades.
Next, there's radio marketing. The next time you hear an annoying, over-enthusiastic car dealer shout every word of his or her commercial, thank Mr. Marconi.
Of course, we can't forget television marketing, which has been around for more than half a century.
Phone marketing is the biggest and fastest-growing area of offline marketing, with admittedly many flops, busts, and failures as well.
7 Ways to Become the Best Digital Marketer
1. Attend Networking Events
Although knowledge and resources on digital marketing are widely available from sources such as podcasts and online articles, investing in registering or joining a conference offers you benefits that other sources just can't.
At these conferences or networking events, you have the opportunity to listen to global industry experts, take advice from best-in-class digital marketing professionals and get insight into the future trends in the digital marketing industry. These types of events also have presentations, workshops, and lessons geared to help you build your digital skillset and expand your understanding of why you do what you do.
Not only can local or international conferences revamp your professional skills, but they allow you the opportunity to build relationships with peers and mentors.
2. Learn from Digital Marketing Brands and Entrepreneurs
If you're considering or just starting out in a career in digital marketing, making the investment in a professional digital marketing conference may be too big of a leap. Luckily, there's a lot of great content online geared towards making a successful digital marketing career.
Digital marketing 'thought leaders' have the experience, expertise, and knowledge needed to create content that's accessible for beginners. And since most of these industry leaders are digital marketers themselves, they know exactly how to make their content easy to find on search engines and social media platforms.
Chances are you've already seen articles from experts like Neil Patel and webinars by Neal Schaffer.
You may also know that DMI's membership library is packed full of toolkits, e-Books and podcasts that cover every subject and brand you can think of within digital marketing. These resources are designed for both industry newcomers and high-level marketers to help you reach your career goals.
3. Connect with Like-Minded Individuals and Peers
As a digital marketer, a large part of what you do is develop communities online. Whether it's for your personal brand or a global organization, a strong community can make or break your business. So why wouldn't you want to be actively involved in a like-minded community of peers?
Active digital marketing communities (online or offline) can help you recognize the importance of what you do and how it can fit within the 'big picture' of your business and life. As a DMI student or member you get to be part of a global digital marketing community where you can post on forums, network, collaborate and find support from peers.
By communicating frustrations or asking a question about an area of digital marketing you're unfamiliar with, you can gain confidence in your abilities and push yourself to learn and try new strategies and processes.
4. Find a Digital Marketing Internship
As with any internship position, many people do them for the opportunity to work in a professional environment that pushes their capabilities. An internship can be challenging, but when surrounded by the right team, you can learn from their mistakes and successes.
Not only can an internship help expand your digital marketing portfolio and experience, but it can help determine what you appreciate in a work environment.
As there are so many facets of digital marketing, you may find that you appreciate solitude when writing creative content, or that you thrive by collaborating on a new campaign to market a new product or service.
While you can learn on your own, an internship will give you real-life experience and help you understand the challenges that marketers face daily. If you do land such a role, make sure you figure out ways to maximize your internship.
You can also do some behind the scenes research of your own to impress your new boss or team. Here are a few great resources that will help:
Podcast – Kickstart your digital marketing career
eBook – How to Become a Social Media Manager
eBook – How to Become a Digital Manager
Blog – How to Become a Social Selling Specialist
Toolkit – Channel Performance Tracker
5. Become a Member of a Professional Body
Did you know that becoming a certified member of a professional body isn't just for careers like architects, solicitors, or doctors?
Digital marketing is a professional global industry, meaning that being a member of a professional digital marketing body can help demonstrate your credibility and stand out from competitors to land that dream job.
Often, becoming a part of a professional body can only be achieved after completing a certificate program. For digital marketers, a Professional Diploma in Digital Marketing course can qualify you to be a certified professional. This course covers all the key elements of digital marketing in depth, including:
SEO – how does it really work?
Pay-Per-Click marketing
Email marketing strategy
Social media management
Website optimization
Content marketing and online writing
6. Stay Up to Date on the State of Digital Marketing
In the same way that programs, apps, and social media platforms keep evolving, so is how marketers must interact with audiences. From keeping up with popular acronyms (PAA anyone?) to knowing the impact of AI and machine learning, digital marketing never stays still and it takes adaptability to keep up.
The good news? Keeping up with the industry isn't hard. Informative digital marketing podcasts are widely available, and websites such as HubSpot and our own membership library publish clear and well-researched pieces on anything you want to know about the subject to keep you up-to-date with new developments like TikTok, the top social media influencers, and more detailed topics like Core Web Vitals and the cookie-free future.
Whether you subscribe to your favorite publications or tune into a podcast as part of your morning routine, this in-depth understanding of your industry can help you become a digital marketing expert.
7. Never Stop Learning
Although education can be a valuable asset to any career in digital marketing, learning doesn't stop when school is out. Investing in training throughout your career will help you become a stand-out digital marketer with varied and in-demand skills.
As we already mentioned, the digital marketing industry continually evolves so your industry knowledge should too. We all know that you're more likely to follow through with a course or certification if it's an area you are passionate about. Are you curious to understand if PPC or SEO is better? The best email marketing metrics? Or if it's worth marketing on WhatsApp?
Luckily there are great digital marketing courses that can help you answer these questions and more. Don't be afraid to invest in yourself and your career.